Advantages of the ISIC card at Apollo Kino
Discount works with cards: ISIC, ISIC student, ITIC, Swedbank ISIC, ISIC student e-card
Offer No. 1
Special offer for ISIC card holders - 10% discount on tickets* Apollo Kino Akropole Rīga, Apollo Kino Plaza and Apollo Kino Domina!

Using the ISIC application, go to the "Limited Offers" section, find the Apollo Cinema code for purchasing tickets. Enter the www.apollokino.lv homepage, choose a session and enter the received code before paying to receive a discount.

Offer valid every day.
* The discount is applied from the standard ticket price

Offer No. 2
Thursday - ISIC day!

Every Thursday for ISIC card holders - 50% discount on tickets* at Apollo Kino!

Using the ISIC application, go to the "Limited Offers" section, find the Apollo Cinema code for purchasing tickets. Enter the www.apollokino.lv homepage, choose a screening and enter the received code before paying to receive a discount.

Offer valid every Thursday.
* The discount is applied from the standard ticket price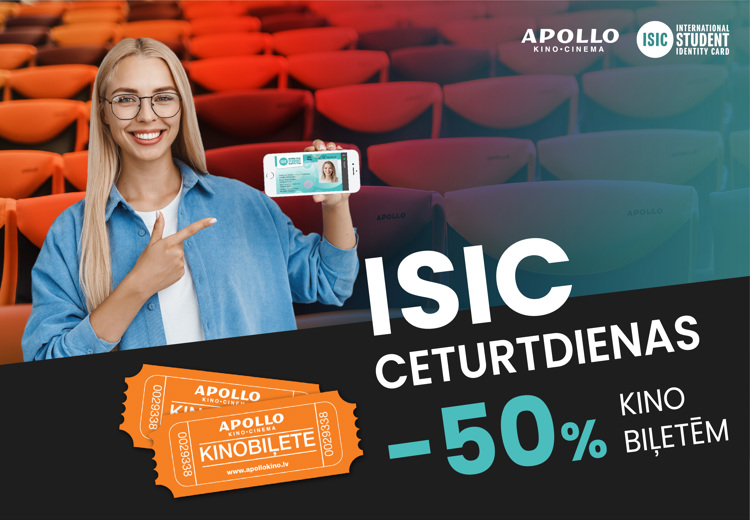 How to get and use the ISIC discount code:
1. Enter the ISIC application,
2. Select the "Limited offers" section,
3. Select the country "Latvia",
4. Choose the offer you want,
5. The assigned discount code will be indicated in the highlighted window,
6. Enter the received code at the time of payment on the www.apollokino.lv website, after choosing the movie, screening time and seat.
Terms of use of the ISIC discount code:
Discount code valid when purchasing an adult ticket;

The discount code is valid for a standard ticket for any seat type;

The discount code can be used to buy cinema tickets with a discount of 50% on current Thursday screenings, 10% on every day;

The discount code 50% can be used starting from this Friday and up to and including Thursday;

Discounts are not cumulative with other discounts, cannot be used to purchase a gift ticket, are not valid on special screenings, pre-premiere screenings, events and promotions;

The discount code is not valid on public holidays;

One code can be used to purchase one or two adult tickets;

Users of the ISIC discount code are also bound by Apollo Cinema cinema rules;
When buying movie tickets with an ISIC discount code on the spot in the cinema, the discount code can be used at self-service ticket offices, mobile application or on the website www.apollokino.lv;

Offer valid until 31.12.2023.