Apollo Kino Domina
"Apollo Kino Domina" is located in the "Domina Shopping" shopping center. Visitors' new cinema experience starts from the moment they buy a ticket, because "Apollo Kino" is a cinema where visitors can buy both tickets and selected drinks and snacks at specially equipped self-service counters. The checkout system is designed to make the purchase process quick, easy and pleasant for every customer, avoiding the usual queues at checkouts.
The cinema offers 3 cinema auditoriums. Each autitorium has 70 ergonomically comfortable and spacious seats: 62 Club seats with an anatomically adjusted high-quality chair, and 4 particularly comfortable double sofas.

Check out the Apollo Kino Domina 360 virtual tour here.

The cinema is equipped with the latest in world-class cinema technology - Barco EcoPureTM digital projectors and a powerful, custom-made sound system. The SP4K-12C is part of the Series 4 portfolio, developed in close collaboration with industry partners. Series 4 projectors deliver native 4K resolution, greater contrast and improved uniformity. Barco Active Image ManagementTM and its patented precise brightness technology guarantee flawless images with automatic white balance. All "Apollo Kino Domina" cinemas are equipped with a powerful custom-made sound system that will make your cinema experience unforgettable.
Auditoriums
1. auditorium

2. auditorium

3. auditorium

Total

70

70

70

Club seats

62

62

62

Double sofas

8

8

8
Ticket prices
From Monday to Thursday
Fridays until 16:59

Fridays from 5:00 p.m
On holidays and public holidays

2D-movie

5,89 €

Regular price 6,54 €

2D-movie

6,59 €

Regular price 7,32 €

Child ticket price
(up to 12 years)

Seniors
ticket price
(with senior citizen's certificate)
Conditions for purchasing and using a ticket
Ticket prices are available at the cinema's self-service ticket offices, on the internet and in the mobile app.
All ticket prices are in EUR, including VAT (21%).
Tickets can be purchased on the website and mobile application until the start of the show. When the screening starts, information about the screening is no longer displayed on the website and mobile application, and ticket purchase is possible only at the cinema on site:
In self-service kiosks, tickets can be purchased 10 minutes after the start of the show;

Tickets can be purchased at the information desk 30 minutes after the start of the show;
Detailed information on ticket prices for a specific screening is available by selecting a screening.
The cinema reserves the right to set an individual ticket price for individual screenings, specifying it next to the specific screening.
Discounts cannot be combined with other discounts, gift ticket is not valid for special screenings, events and promotions.
Please note that the film repertoire and screenings for the following week (starting from Friday to Thursday) are planned every Monday and released on Monday or Tuesday afternoon.

Before purchasing tickets, the Apollo Club member must identify himself with a personal QR code at the self-service ticket counters;

A member of the Apollo Club can buy tickets with a 10% discount from the standard price (the discount does not apply to tickets for children and special events);

An Apollo Club member can purchase a maximum of 9 tickets per show, in one purchase;

At the time of ticket purchase, the employee of the cinema has the right to ask to present an identity document, observing the age restrictions of the films. In the event that an identity document is not presented, the cinema employee has the right not to sell tickets and not to allow persons who have not reached the specified age into the cinema hall (Apollo Kino film classifier is based on the rules of film classification developed by the Cabinet of Ministers of the Republic of Latvia. The purpose of film classification is to protect children from harmful films content and inform parents or accompanying children about the harmful content of the film). More information about age restrictions can be found under Age Restrictions.

For persons using wheelchairs, the visit to the cinema is free of charge (the customer sits in his wheelchair in a specially designated place). If the customer wishes to sit in a cinema seat, a discounted ticket* must be purchased. Specially designated places for wheelchairs are located in all halls (except Restaurant Halls, Star Hall and Star seating areas);

People with disabilities (groups 1, 2 and 3) and their accompanying person receive discounts on cinema screenings*. Before purchasing tickets, it is necessary to present certificates;

A child up to the age of 3 (inclusive) does not need to purchase a cinema ticket if the child does not occupy a separate seat;

Tickets purchased from us in the cinema or on the website cannot be changed or returned (in accordance with Cabinet of Ministers regulations No. 255);

Apollo Kino reserves the right to change ticket prices without prior notice.
​* ​Children's ticket or Senior ticket price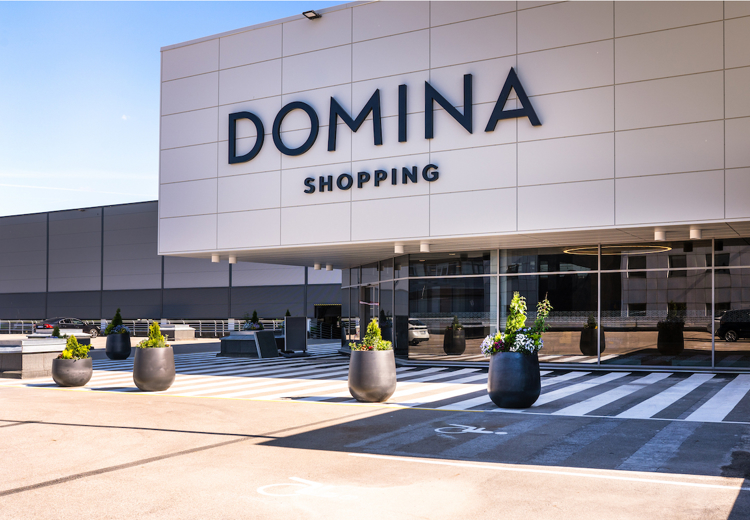 Contact and location
"Apollo Kino Domina" is located in the shopping center "Domina Shopping" - on the 3rd floor.
If you drive a private car, for your convenience we offer to park your car in the "Domina Shopping" roof parking lot, on the 3rd floor, and use the nearest roof entrance to get to the cinema.
Working hours:
Mon-Fr: 11:00-22:00
S-Sun: 10:00-22:00
During the summer period, Mon-Sun: 10:00-22:00
Working hours may change on holidays
Apollo Skypark working hours June 23 and June 24
June 23: 10:00-20:00
June 24: 12:00-22:00

Customer support service e-mail: info@apollokino.lv
The working hours of the customer support service info@apollokino.lv are every working day from 9:00 a.m. to 6:00 p.m.
At other times, we invite you to contact the cinema INFO cash desks.
Information phone about films and screening times: 1189 (payphone: https://www.sonido.lv/tarifi/,
"The conversation may be recorded for quality control purposes").